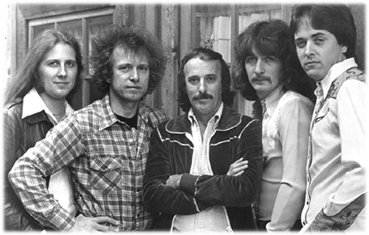 The Flying Burrito Brothers / Sierra with Mickey McGee (far right)
We just learned that drummer / singer / songwriter William Michael "Mickey" McGee (born October 25, 1947) died of complications from COVID-19 on July 20, 2020.
He was a member of The Flying Burrito Brothers in and out from 1975 to 1981, and appears on the 1977 LP they released under the name "Sierra".
He was also a member of the "reunion" Swampwater recording sessions in 1979, replacing original drummer Stan Pratt. These recordings were released in 1987 only on the "Reunion" LP.
He also worked for The Burrito Brothers, Bobby Gentry, Linda Ronstadt, Juice Newton, Jim Ringer, Blue Steel, Maureen McGovern, Keith Moon, Ricky Nelson, Jackson Browne, John David Souther, Warren Zevon, Chris Darrow and more.